# Install Hub and Policies
# Enable or Disable Reports Through Install Hub
The Admission Controller currently runs the following report types:
Polaris - checks for security and best practices
OPA - apply custom policies to resources
Pluto - detects Kubernetes resources that have been deprecated or removed
To enable or disable a particular report:
Visit your organization's Clusters page
After selecting a cluster, go to the Install Hub page
Click the Admission Controller report and navigate to Configure
Use the toggle to enable or disable a report and click Update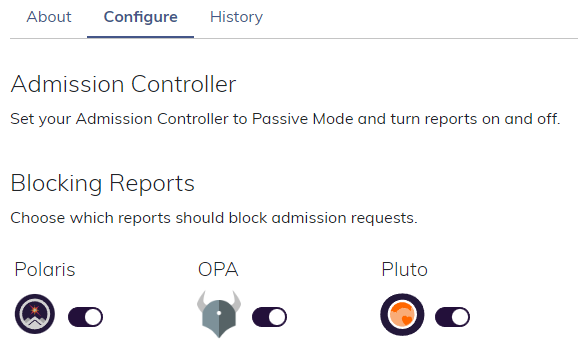 # Customize Policies
To see the current Policies applicable to the Admission Controller:
Visit your organizations Policy page
Under the Admission column, select the Warn and Block filters
If the Admission Controller is not in Passive Mode, the Policies that have Block under Admission will cause admission requests to fail. Others will only create Action Items but will not block admission requests.
To customize the severity or whether a Policy should block an admission request, you can use the Insights CLI to configure Policies.